Welcome to Oaks Heat & Air
Oaks Heat & Air is a small, family-owned and operated HVAC company in Coweta, OK committed to finding home comfort solutions for homes and businesses throughout the Coweta area. We truly care about your home and family, and we want to make sure that your heating and AC equipment operates as smoothly and safely as possible.
​We can also recommend indoor air quality products to help improve your health and wellness. And we provide maintenance services to keep your equipment operating at its best. We hire highly trained and skilled HVAC technicians who we continuously train to learn even more about industry standards and new equipment. You can count on us to provide honest, reliable, quality work and to uphold the highest standards of customer service with any job.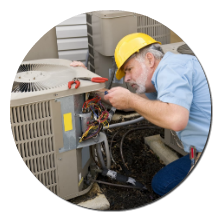 AIR CONDITIONING
You don't want to have to imagine a summer without air conditioning. Remember Oaks Heat & Air and you'll never have to deal with a broken air conditioner for very long. We can fix the problem quickly while still ensuring the quality of our work. Whether you just need a quick electrical fix or a brand new outside condenser unit, we will provide excellent customer service no matter the size of the work. We can also help you to select a new unit for your home. We install or replace standard central air conditioners, heat pumps, and dual fuel systems.
HEATING
We are a team of certified professionals trained to service and install furnaces, heat pumps, and dual fuel heating systems. Not sure which heating system is right for your home? Allow our experts to advise you so that you get the system that is the best fit for your budget, efficiency needs, and the layout of your home. Your heater can become unsafe if it's in the wrong hands, but our experts carefully inspect the system with any installation or service. We also offer expert maintenance services to keep your heater in excellent condition. Get in touch with our friendly team!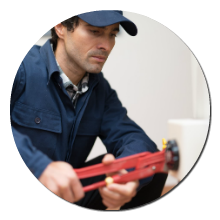 CALL THE PEOPLE WHO CARE, OAKS HEAT & AIR!
WE PROVIDE QUALITY AIR CONDITIONING, HEATING, AND INDOOR AIR QUALITY SERVICES FOR RESIDENTIAL AND COMMERCIAL PROPERTIES IN COWETA, OK AND THE SURROUNDING AREAS.
Coweta Heating And Air Conditioning Repair
Oaks Heat & Air is a locally owned and operated Coweta heating and air conditioning repair company. We are well-trained to diagnose, maintain and install HVAC systems. We have been serving homeowners and small business owners since 2008. During this time, we have completed thousands of jobs and met many wonderful people. We truly enjoy our line of work and the ability to help people improve indoor air comfort. 
Whether your HVAC system needs maintenance, is showing signs of wear and tear or needs to be replaced, Oaks Heat & Air can accommodate your needs. Contact us today for a free, no obligation assessment. 
Do You Need a New Heating or Cooling System? 
On average, HVAC systems have a lifespan of 10-20 years. If you maintain your system, you should enjoy an extended lifespan. Routine maintenance ensures all parts and components are working efficiently. If small problems are identified, they can be fixed on the spot, preventing an unexpected breakdown on a scorching hot day. 
When it's time for a new system, our Coweta heating and air conditioning company can help. Here are some benefits to having a new system installed with us: 
Energy efficiency. The latest HVAC systems possess new technology that leads to greater efficiency, more comfortable environments and reduced energy bills. You can take advantage of this technology with a new system.

Rebates and incentives. By installing a new system with our HVAC company in Coweta

OK, your purchase may qualify for state and federal rebates and incentives. Many of our systems also come with a manufacturer rebate for added affordability. 

Sizing. It's possible that your current system is not the right size for your home. If it's too small, it won't cool your home properly. If it's too big, it won't dehumidify your home. Let us help you find a system that is the right size.

 

Matched systems. If you only replace one part of your HVAC system, you'll end up with a mismatched system, which can compromise comfort and efficiency. Our Coweta

heating and air conditioning company can suggest a full system that meets your needs and budget. 
Why Choose Our HVAC Company in Coweta OK 
Whether you need an HVAC repair, installation or maintenance service, Oaks Heat & Air can accommodate your needs. Our technicians are some of the most trained and skilled in the industry. All of our techs are Oklahoma-state certified and receive ongoing training to stay ahead of the curve. 
A few other benefits to choosing our Coweta heating and air conditioning repair company are: 
Over 10 years of experience

 

Family owned and operated

 

Experienced technicians

 

Honest assessments

Free second opinions

 

Quick appointments

 
Don't leave your indoor comfort needs to just anyone. For professional, timely Coweta heating and air conditioning repair, contact Oaks Heat & Air today. 
HOURS
Monday 8:00am – 5:00pm
Tuesday 8:00am – 5:00pm
Wednesday 8:00am – 5:00pm
Thursday 8:00am – 5:00pm
Friday 8:00am – 5:00pm
Saturday Closed
Sunday Closed
PARTNER

PAYMENT METHODS

Oaks Heat & Air is one of those companies that you are truly glad you found during every step of the AC repair process. If my wife and I need AC or Heating repairs we wont hesitate to call them again.
Let me take a moment to explain so that you see what I mean.

About a month ago our upstairs AC started to go out so my wife and I called the home warranty company and a service company of their choice was set up to come out. The company was in and out of our house within 10 minutes leaving us two high priced options and a feeling that we were going to be taken advantage of with either choice.

After talking about it we decided that we needed to get a second opinion on our own and leave the home warranty company out of it. We remembered that Oaks Heat & Air had done a great job replacing our downstairs unit several years ago so I decided to give them a call for a quote. I told him on the phone what had happened and that he would be a "second opinion". He didn't have a problem with this at all and came out to check on the AC. Keep in mind that he no longer contracts for the home warranty company so if we continue to pursue the repair threw the home warranty company he is out of the picture.

From the moment Gary walked in the front door we felt like we had made the right decision and that we would be taken care of as customers and not numbers.

After taking the time to truly check all components of the unit he let us know our options and helped us make a smart decision based on the age of the upstairs unit and cost. He spent time with us to make sure that we understood what was going on with our unit and what the possible end result would be for our options.
It was refreshing to actually have a contractor in our home that still believes in customer service and takes pride in their work.
Needles to say we had Oaks AC & Heating replace our upstairs unit without the home warranty company being involved.

They did a fantastic job replacing the outside unit and the coil in the attic while I was out of town on business. Our outside unit is now keeping the upstairs cool without running all day and night so this should provide lower energy costs as the icing on the cake.

We will be ignoring the home warranty and calling Oaks AC & Heating directly for all service calls from now on.

Ron M.


5/29/2019