When you are looking for an HVAC company in McKinney, TX to handle your air conditioning and heating needs—whether for your home or a small business—you want to locate a contractor who has the right experience, tools, and products. Someone who will get the job done right the first time, and at an affordable cost.
​You will find all of this when you call on the HVAC specialists at Oaks Heat & Air. From upgrading old air conditioning systems with energy-efficient units to taking care of repairs for faulty heaters, our professional staff has the experience, skill, and equipment to get see that receive the services you need, done promptly and correctly.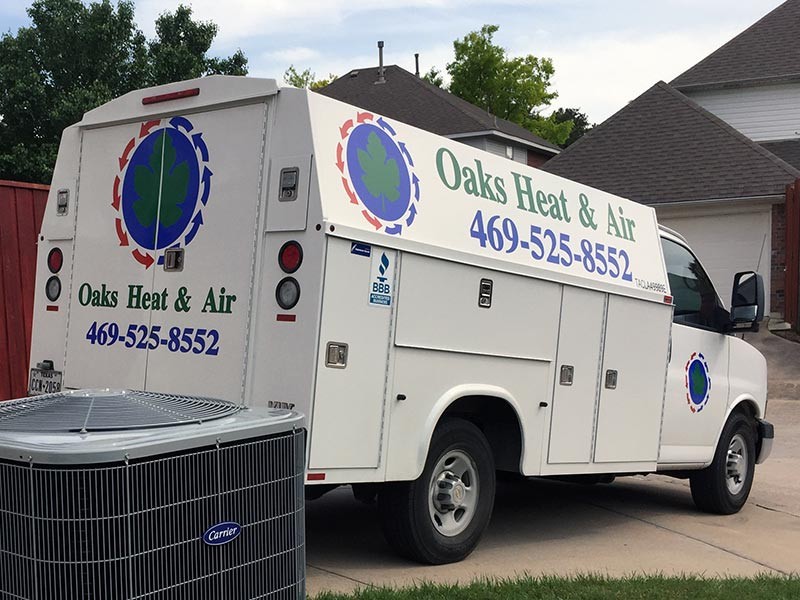 PUT YOUR TRUST IN A LOCAL COMPANY WITH EXPERIENCE
We are a licensed and family-owned and operated HVAC company serving the north Dallas Metroplex area, and we service all major brands. We have established credibility in the heating, air conditioning, and ventilation industry, and our owner, Gary Oaks, has been working in the field since 2008. All of our technicians are Texas state-certified, and they have extensive on-hands experience as well: we have completed thousands of air conditioning repairs alone.
​
We take pride in providing honest services for heating systems and air conditioners at affordable prices. When we take on a repair job, we make it our goal to provide a level of quality so that the customer won't need to call us again. Of course it's impossible to prevent all malfunctions that may occur in the future, and HVAC units will decline over time: we're always ready to help the next time you need us.
TECHNICIANS WHO ARE TRAINED AND READY TO ASSIST YOU
On each job, our licensed technicians will arrive at your home or business in a vehicle that is fully stocked with all the professional equipment and tools that will help them troubleshoot and resolve any problems rapidly—usually on the first visit. We will be in and out of your home before you know it! If a system needs a special part, simply contact us and we'll provide you with an accurate estimate on the repair. You'll always know how much the job will cost before we start work, and our knowledgeable team will see that you are always informed every step of the way.
WE OFFER FREE SECOND OPINIONS
We are also glad to offer free second opinions: if a contractor gives you a price quote that you think is too high or makes a diagnosis that you believe may be incorrect, you only have to contact us to receive an accurate and honest estimate from another expert. It's our pleasure to see that you receive fast and friendly service, no matter what the job is. We value you as a customer, and will always strive to go beyond your expectations so that we are the first people you call in the future for service. For your home and business comfort, Call the people who care, Oaks Heat & Air!